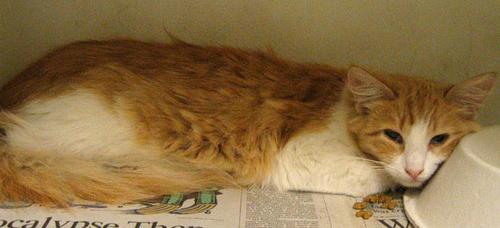 Click on Thumbnails above to see Full-Size Image!
---
Impound #: A645034
Impound Type: "OWNER SURRENDER - PICK UP"
Date Arrived: 05/18/04
Sex: Unknown (however, we think this cat is a male)
Age: 6 Mo.
Date Available: 05/22/04
Review Date: 05/22/04.
THIS CAT IS AT EXTREMELY HIGH RISK OF EUTHANASIA. HE/SHE HAS BEEN KEPT IN THE CAT ISOLATION EVER SINCE HE/SHE ARRIVED, AWAY FROM THE PUBLIC. HE/SHE MUST BE ADOPTED OUT AS SOON AS POSSIBLE, OTHERWISE HE/SHE WILL BE KILLED AS SOON AS THIS WEEKEND!
---
(The "review date" is the day during which the shelter decides to either keep or euthanize an animal. This date is usually, if not always the last day for the animal. However, this is only an estimate by us; the animal MAY still be available AFTER this date. In any case, we strongly suggest that if you are interested in a cat or kitten that you see here, pick up your phone and call us or the shelter NOW! )
---
Hi, I'm Allen. I had an owner who no longer wanted me. I don't like being here, and would be so grateful if you could save my life and rescue me from the pound...
I love to play with other kitties, sit on laps, and cuddle. I would aslo love having another cat to play with but I truly crave attention from you. My favorite activity is being petted and I am just buckets of purrrrs. I am a gentle kitten and would probably do ok with young children... also, I would be a devoted, loving pet to anyone. I certainly appreciate lots of strokes, and kisses. I have a very nice shiny fur, and beautiful eyes.
Please rescue me from here before I am gone. I will love you, I promise. Please call about me now if you will provide a safe, permanent home for a sweetie like me.
Always,
Allen :-)
---
The animal shelter charges approximately 68 dollars per cat adoption, which includes spaying and a microchip. If you are interested in adopting or fostering Allen, or know someone who is, please contact Daniel at (714) 717-5722, (714) 952-5830 or (323) 791-8506 immediately. If you adopt through us, a home check will be required. If you might have trouble getting over to South L.A., we can make arrangements.
For the Animals,
Rachel & Dan
---
Click HERE to return to the main site of Cats at South L.A. Shelter!