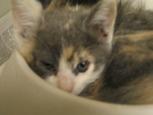 Click on Thumbnails above to see Full-Size Image!
---
Impound #: A645330 (Fluffy), A645331 (Samantha), A645335 (Red)
Impound Type: "STRAY"
Date Arrived: 05/19/04
Sex: Female (A645330), Female (A645331), Male (A645335)
Age: 2 Mo.
Date Available: 05/23/04
Review Date: 05/23/04.
THESE CATS ARE AT EXTREMELY HIGH RISK OF EUTHANASIA. THEY HAVE BEEN KEPT IN THE CAT ISOLATION EVER SINCE THEY ARRIVED, AWAY FROM THE PUBLIC. THEY MUST BE ADOPTED OUT AS SOON AS POSSIBLE, OTHERWISE THEY WILL BE KILLED AS SOON AS THIS WEEKEND!
---
(The "review date" is the day during which the shelter decides to either keep or euthanize an animal. This date is usually, if not always the last day for the animal. However, this is only an estimate by us; the animal MAY still be available AFTER this date. In any case, we strongly suggest that if you are interested in a cat or kitten that you see here, pick up your phone and call us or the shelter NOW! )
---
Say hello to us! We are Fluffy, Samantha, & Red! We love to cuddle and snooze. We were fond on the streets, without our mom, without food or water. We were also abused and intimidated by horrible humans, so we are extremely shy and fearful of people. Don't let this scare you away, though, because once you show us that we can trust you it won't take very long for us to fall in love. We, like everyone, want freedom and happiness, in a home where we will be loved for the rest of our lives.
We are all long haired kitties. Fluffy is the black and white Calico kitty. She is very timid and shy, and with the right treatment and love, she will warm up to you in seconds. Samantha, the Tortie kitty, loves to play, and has an adorable meow. She is absolutely gorgeous. Watch out, though, her eyes might melt your heart... She is shy, but will cuddle and purr in a matter of seconds. Red is our brother, the orange and white tabby, and he is the most shy out of all of us. He depends on us for protection, and we're always there to give hugs and kisses to each other.
We would love to spend the rest of our lives together, but if you could only take one of us, we would be so grateful for your love. We truly crave attention. Here, we don't get much play time... 1, or all 3 of us would be a devoted, loving pet to anyone. We certainly appreciate lots of strokes, and kisses. We also have very nice shiny fur, and beautiful eyes.
Please take all 3, 2, or 1 of us from here before we are gone. We're sweeties, so come and rescue us before it is too late!
Always,
Fluffy, Samantha, & Red :-)
---
The animal shelter charges approximately 68 dollars per cat adoption, which includes spaying and a microchip. If you are interested in adopting or fostering Fluffy, Samantha, or Red, or know someone who is, please contact Daniel at (714) 717-5722, (714) 952-5830 or (323) 791-8506 immediately. If you adopt through us, a home check will be required. If you might have trouble getting over to South L.A., we can make arrangements.
For the Animals,
Rachel & Dan
---
Click HERE to return to the main site of Cats at South L.A. Shelter!