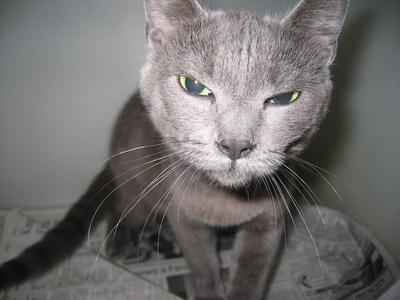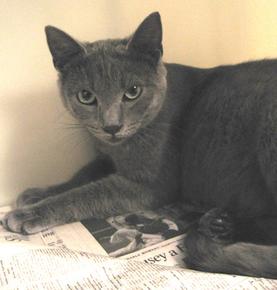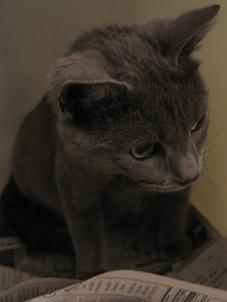 Click on Thumbnails above to see Full-Size Image!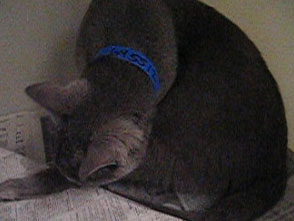 Click here to see a VIDEO CLIP of Britney!
Impound #: A645512
Impound Type: "Stray"
Date Arrived: 05/19/04
Sex: Female
Age: 6 Months
Date Available: 05/23/04
Review Date: 05/26/04
---
(The "review date" is the day during which the shelter decides to either keep or euthanize an animal. This date is usually, if not always the last day for the animal. However, this is only an estimate by us; the animal MAY still be available AFTER this date. In any case, we strongly suggest that if you are interested in a cat or kitten that you see here, pick up your phone and call us or the shelter NOW! )
---
Hi! I'm Britney. I have bright green eyes and a lustrous grey coat. It glows when I sit near a lighted windowsill. I am extremely affectionate, playful, good-natured, and I love to run up the cat tree. I'd love to curl up in your lap and purr.
If you're one of those classy individuals who "has a thing for grey cuties," and I sense that you are, then look no further -- I am the Grey Goddess you have always dreamed of. True to form, I am an intelligent, spirited, gorgeous, independent, take-no-prisoners sort of girl with charisma to burn.
I am not demanding at all... ;) ... just kind-hearted and loving. I'll even come around to your other kitties if properly introduced...
Oh, and as for toys, they're fine on occasion, but I far prefer to spend as much time as possible on a loving lap, preferably being kissed and showered with lovies. That's my favorite thing in the world--I could let myself be smooched and petted all day long. What toy, activity, or 'kitty treat' could compare to that? :)
I should also tell you that I might be pregnant. Of course, a pretty girl like me mas to take care of herself, so, if you must know, I am in excellent condition! I know you think I'm cute and you love me already. I'm too cute to pass up. So, come and save me today...
Hugs and Loves,
Britney :-)
---
The animal shelter charges approximately 68 dollars per cat adoption, which includes spaying and a microchip. If you are interested in adopting or fostering Britney, or know someone who is, please contact Daniel at (714) 717-5722, (714) 952-5830 or (323) 791-8506 immediately. If you adopt through us, a home check will be required. If you might have trouble getting over to South L.A., we can make arrangements.
For the Animals,
Rachel & Dan