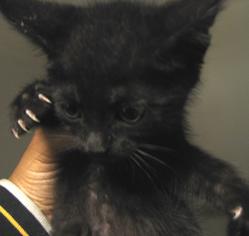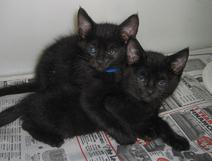 Click on Thumbnails above to see Full-Size Image!
Impound #: A644786, A644789, A644787, A644788
Impound Type: "Stray"
Date Arrived: 05/17/04
Sex: We are 3 males and 1 female!
Age: 2 Months
Date Available: 05/21/04
Review Date: 05/24/04
(The "review date" is the day during which the shelter decides to either keep or euthanize an animal. This date is usually, if not always the last day for the animal. However, this is only an estimate by us; the animal MAY still be available AFTER this date. In any case, if you are interested in a cat or kitten that you see here, pick up your phone and call us or the shelter NOW! )
---
Hi! We're 2 month old kitties, but we think we're much older than that! We're mostly all black, except for Sarah, who thinks she is the cutest Tortie ever... yeah right!
Anyway, we're young and energetic, and love to play with each other. We are always jumping and running one minute, but want to cuddle up in your lap the next. Of course, we are extremely affectionate kittens. We don't know what happened to our mom, but now we're ready to go to a home of our own!
We're in purrfect condition, and of course, we get along well with other cats and probably dogs too (as long as they like us!) We would like to be adopted together in pairs of 2 because we're sweet and love to give hugs and kisses.
We don't want to end up back in the shelter when were "too big". We want a life-long, permanent home with someone who will treat us the right way for the rest of our lives. Please come and save us now! Our time is running out...
Hugs, Love, & Kisses,
Tiger, Jordan, Jay & Sarah :-)
---
The animal shelter charges approximately 68 dollars per cat adoption, which includes spaying and a microchip. If you are interested in adopting or fostering Tiger, Jordan, Jay or Sarah, or know someone who is, please contact Daniel at (714) 717-5722, (714) 952-5830 or (323) 791-8506 immediately. If you adopt through us, a home check will be required. If you might have trouble getting over to South L.A., we can make arrangements.
For the Animals,
Rachel & Dan