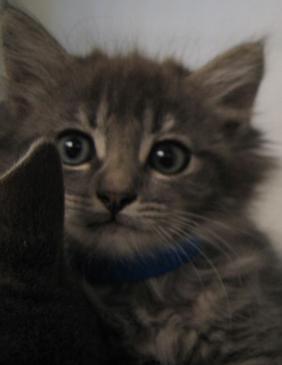 Click on Thumbnails above to see Full-Size Image!
Impound #: A644784 (Smokey), 644752 (Willy)
Impound Type: "Stray"
Date Arrived: 05/17/04
Sex: Female (Smokey) Male (Willy)
Age: 2 Months
Date Available: 05/21/04
Review Date: 05/24/04
---
(The "review date" is the day during which the shelter decides to either keep or euthanize an animal. This date is usually, if not always the last day for the animal. However, this is only an estimate by us; the animal MAY still be available AFTER this date. In any case, we strongly suggest that if you are interested in a cat or kitten that you see here, pick up your phone and call us or the shelter NOW! )
---
Hi! We are Willy and Smokey. We are 2 luxiously long-haired gray-tabby kittens, and we have have bright green eyes and pretty striped coats. Since Willy is off being a goof-ball, I, Smokey, will be the spokescat ;) I am a polydactyl - I have extra toes on all of my four feet. I don't have quite as many toes as Willy, but I have enough to spare. And of course, with these extra toes, I am an excellent climber... better than Willy!
We are the most quiet kittens in the whole shelter! Maybe if we get happy enough we can sing for you sometime. We're babies, so we're in excellent condition, clean teeth, great coat, cute face, extra toes... what more could you ask for?!?! :-)
We're good with other cats and would make wonderful companions. If we sound like kitties you would love to spend the rest of your life with, please inquire about us right away!
Kisses,
Smokey & Willy :-)
---
The animal shelter charges approximately 68 dollars per cat adoption, which includes spaying and a microchip. If you are interested in adopting or fostering Smokey or Willy, or know someone who is, please contact Daniel at (714) 717-5722, (714) 952-5830 or (323) 791-8506 immediately. If you adopt through us, a home check will be required. If you might have trouble getting over to South L.A., we can make arrangements.
For the Animals,
Rachel & Dan
---
Click HERE to return to the main site of Cats at South L.A. Shelter!